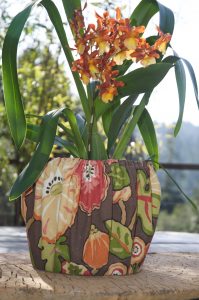 Planties™ Plant Underware That's Fun To Wear
These colorful high quality fabric pot covers are sewn by our favorite seamstress who designed Planties™ fit over No Drought™ Indoor Plant Hydration Systems, providing attractive indoor plant designs to accent your store decor.
The Council For Textile Recycling reports U.S. EPA estimates that textile waste occupies nearly 5% of all landfill space. While the EPA estimates that the textile recycling industry recycles approximately 3.8 billion pounds of post-consumer textile waste (PCTW) each year, this only accounts for approximately 15% of all PCTW, leaving 85% in our landfills.
As a Certified Green Business, Deeper Green Interiors visits our interior designers, tile suppliers and custom furniture designers to collect leftover fabrics, wood scraps and tile shards to incorporate into our eco-friendly plant products.  Using allied businesses manufacturing waste creates our line of green DIY pots, planters, and garden decor is a win-win and has a great ROE –Return on environment.
Benefits:
Reduces solid waste in US landfills
Adds fun and colorful indoor garden accents
Creates unique decorative plant decor
Leak proof design in conjunction with No Drought™
Elevates your store's brand identity and customer perception