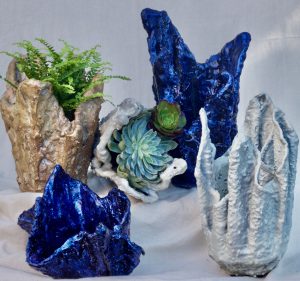 Our distinctive Lava Pots™ come in a variety of shapes, sizes and unique colors to compliment any store design scheme.
How Lava Pots™ Are Created
We collect used fabric scraps, rag towels and misc. fabrics which we hand dip into a natural mix of lime mortar, sand, fly ash and water.  The fabrics are carefully coated in the gooey mix, then carefully draped over custom molds made to support the weight of the wet fabrics for several days until completely dry.
When dry, we remove each Lava Pot™ from the mold and take them outside to cure for 6 months.  After curing, each pot is hand painted by an artisan using numerous layers of acrylic paints and UV coated with polyurethane.
Benefits:
Keeps fabrics out of landfills  visit https://harmony1.com/textile-waste-infographic/
Creates a new functional & beautiful garden product
Stokes our passion for making art & designing healthy spaces
Creates unique and attractive decorative container for indoor plants